GATE Trust Virtual Classroom
Virtual classroom, as the name suggests, is an online learning environment that allows teachers and students to communicate and continue the learning process as like as in-house class in this unique environment.
Below are a list of features that GATE Trust's virtual classroom provides:

HD video & audio quality
To ensure that the video conference stays on GATE Trust automatically changes video & audio to lower quality. It is vital that the connection is stable for the students so that they don't miss out on something important being discussed in live class.

Live Chat
Live chat during online classrooms makes it easier for students to pose questions or discuss something with, each other without interrupting what the teacher is saying.
Student can intrect with teacher as like as in-houuse class.

Record Classes
Classes that are live student can record classes on their desktop. This way, students who might have missed the class can easily access previous class recordings and watch them to catch up.

Share files
GATE Trust also lets teachers send assignment work, worksheets, study material and other media files, related to academics. Students can also send files (Images, Video, Audio, PowerPoint, PDFs) to submit presentations and assignment work.



Compatibility
The online classes can be taken by teachers and watched by students on any of the following, devices (Windows, MacOS, Android and iOS).

Corporate / Group Class
Online classes taken of a corporate or group can help teachers finish up with teaching in a more effective manner and saves a lot of time since the curriculum can be finished quicker if all the students attend classes at the same time.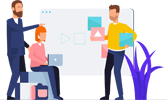 "
Go Live
Live class sessions are facilitated so that students can get solutions and their questions and their, doubts cleared as soon as they emerge. This helps in a better learning experience for them. There are also various features such as screen sharing available during live class sessions.

Safe for students
GATE Trust does not provide any data on parents and students to any third party so the parents , and the students can freely join online classes without having to think twice about it.

GATE Trust E-Library
GATE Trust Provide PDFs and e-books on academic books that are part of a student's curriculum throuugh GATE Trust E-Library. GATE Trust E-Library students can access books, study material for them to study at home.
-