Certificate EV Charging Station Installer
Around 75% EV charging stations to be in public, rest will be at homes
Design Guidelines For EV Charging Infrastructure
Are you someone who sees future business prospects in the electric vehicles segment? If yes, then, this might be a good news to you.
An area of 3 km could require about 300 charging stations with about 4-5 charging slots. To reach a milestone of meeting the charging requirement of 2,000,000 Electric Cars, around 400,000 nos of Charging stations are required by 2026. Apart from vehicle manufacturers, third party companies are also in the race to announce plans to set up charging infrastructure in the country.

An EV infrastructure plan must consider these different users, as well as how to plan, zone, and legislate for the charging needs of the future. Selecting a site for EVSE installation willlikely require consideration of a combination of factors. While every site is unique and every EVSE host has priorities for installation, common physical elements characterize every EVSE site design. Various sections of the Code set out minimum requirements for the installation of EV charging equipment. Typically, an EV charging space requires more area than a standard parking space. In order to ensure safe and easy movement around the charging station.

The only standards that currently set out specifications for fast charging are CHAdeMO and SAE J1772 Combo. The maximum charging power specified by the CHAdeMO standard is 62 kW (125 A at 500 VDC), while the J1772 Combo standard sets the maximum power at 100 kW (200 A at 500 VDC).

A charging station is usually in the form of a fixture connected directly to an electrical distribution pane. Some have additional features: energy meter, electronic payment system, card-controlled access system, Internet access, etc.

A variety of models designed for different uses are available on the market. When selecting a charging station, While designing your electric vehicle charging stations, ensure they are protected from vehicle collision.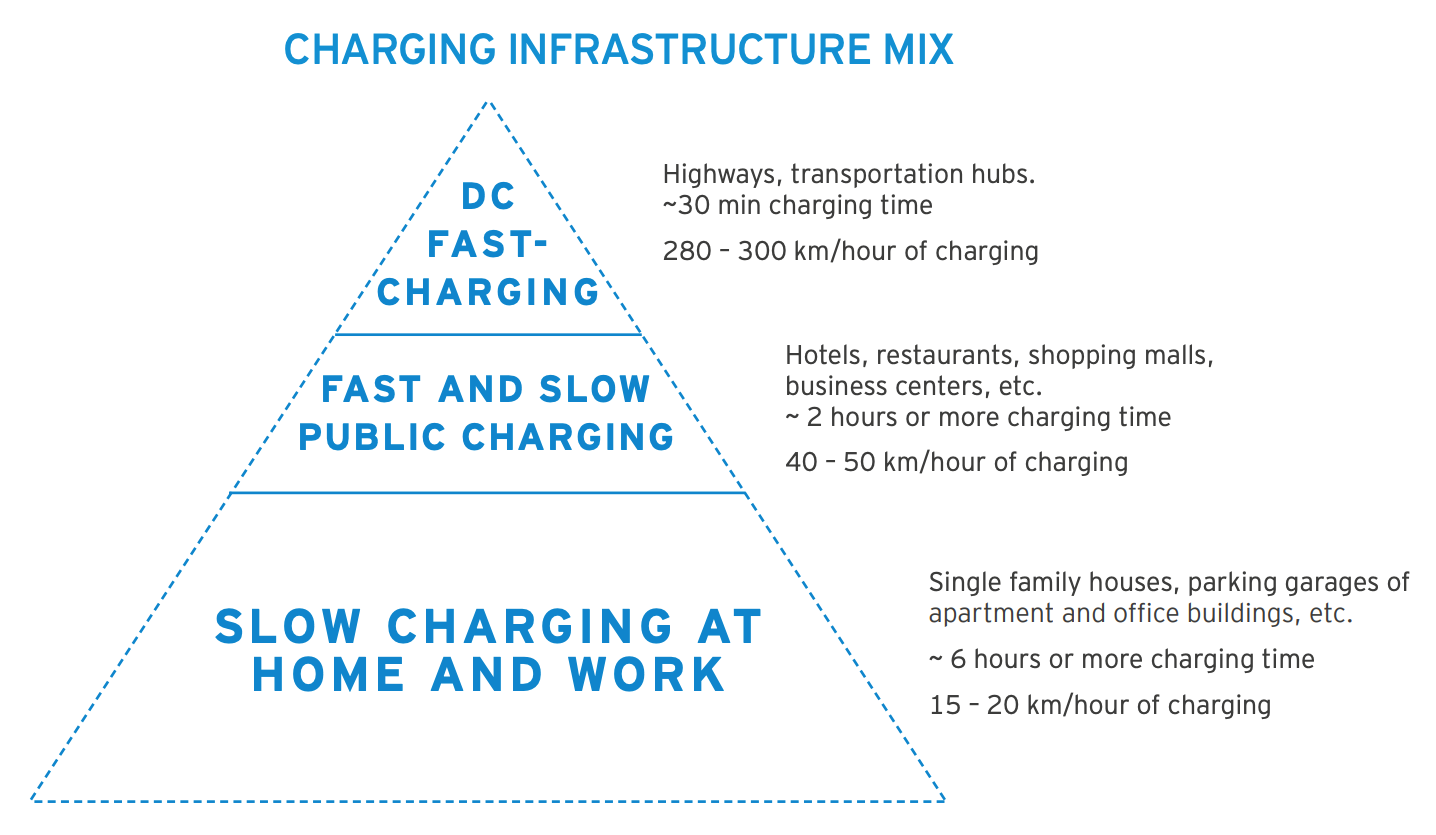 This training session presents useful information about the
installation of electric vehicle charging stations with design of Public Charging station combination of Level 2, CCS, CHAdeMO, Level 2 SAE J1772 Combo etc.
Charging Station Site Assessment
Charging Station ROI
State, city wise vendor detail
How to make EV Charging Station Project Proposal
Govt. guide line, How to submit Govt Project Tender
Practical Installation of Charging Station
Business Opportunity
The Ministry of Power has said that now no separate licence will be required for set up charging infrastructure for electric vehicles under the provision of the Electricity Act 2003, the government is looking to give a further boost to e-vehicles by opening up the playing field to individuals. The person should apply for connectivity and the distribution company is bound to provide connectivity
Skill Requirement
Even though awareness for electric vehicles has increased multiple times but the skill level and base knowledge required to develop electric vehicles and to understand them is still limited. This creates a gap in demand and supply which is currently filled by buying off the shelf products from limited players in electric component industry.
See AEVT Course Syllabus
Certificate will be Awarded by
Academy of EV Technology, A Unit of Global Advanced Training & Educational Trust, Regd. under NCT New Delhi, Govt. of India
Eligibility
Minimum Educational Qualifications: ITI or Diploma or 10+2 in any stream with working Experience
Minimum age 18 years, No Upper Age bar for Entrepreneurs
Medium:
English, Hindi & Local Language
(Book & Online Examination in English)
Training Methodology:
E-Learning Content for Self Learning:
We provide access to our Learning Management System (LMS) that includes resources from e-books, assignments, Audio-Video links and web-links from our online E-Library. The LMS is accessible via smart phones and tabs, and is available in our E-Library website.

Live Interactive Classes:
Our expert faculty members take session on each paper that is delivered through live webinar sessions. These sessions are joined by students from India and Abroad. Key concepts, case studies and real life examples are discussed. Students also get chance to clarify their doubts / academic clarifications. If by any chance you miss these live classes, don't worry, the recorded sessions are uploaded in the E-Library/LMS.

HelpDesk – Solve your queries instantly:
Helpdesk Support is Available for all students in AEVT in the defined business hours. All learners can connect via Email & Chat. Helpdesk Connect learners to all departments of AEVT. Issues raised via Email & Tickets answered within 24 Business Hours. We encourage students to use this facility.
Training Materials:
FREE e-book
FREE E-Library for future study on up-to-date technology, project guide, National & International FREE Article
EVSE, sample financial models etc.
One Month Course Syllabus:
Unit: CI
Charging Infrastructure - Electric Drive and controller
Electric vehicle charging station
Electric Vehicle Supply Equipment -

Different types of EV charger connectors
single-phase or three-phase socket
SAE J1773
CHAdeMO standard - DC fast charging
SAE J1772 Combo

Cords and Cables, Earthing, Lightning Protection of Electric Vehicle Charging, Residual current device (RCD)
National & International EV Standard Codes - IEC applicable for EVSE

2 hour live interaction class

4 lecturer session (30 Minutes each) and FAQ Session, Online Doubt Clearing session
1+ E-Book for self study
Unit: CSA
Charging Station Site Assessment
site analysis for EV charging station
Choosing the location - Public charging stations
Site Selection Considerations, General Site Issues, URDPFI Guidelines, Planning Considerations
Design Guidelines and Site Drawings, EVSE Typical Site Plans, Station Configuration

1/2 hour live interaction class

1 lecturer session (30 Minutes each) and FAQ Session, Online Doubt Clearing session
Unit: CSD-1
Charging Station Design - EV with PV
Energy consumption
Guidelines on Charging Infrastructure
Public Charging Infrastructure (PCI) - Components of charging station
Proposed Tariff for EV Charging
Electric Vehicle Charging Tariff in Different States of India

2 hour live interaction class

4 lecturer session (30 Minutes each) and FAQ Session, Online Doubt Clearing session
2+ E-Book for self study
Unit: CSD-2
Charging Station Design - Part 2
PLANNING FOR YOUR STATION
Solar powered electric vehicle charging station
Calculation and selection - Components of charging station

2 hour live interaction class

4 lecturer session (30 Minutes each) and FAQ Session, Online Doubt Clearing session
2+ E-Book for self study
Unit: CSD-3
Charging Station Design - Part 3
Design On-Grid solar charging stations for a parking lot
Plans for EVSE Installation
Single line diagram of charging station
EV Related Signage

2 hour live interaction class

4 lecturer session (30 Minutes each) and FAQ Session, Online Doubt Clearing session
2+ E-Book for self study
Unit: SEV
Safety for EV Charging System
Electrical safety from the charging socket to the electric vehicle
Different aspects of electric safety
Electric Vehicle Charging Safety Guidelines
Protection against electric shock, fault protection
IEC IEC 60068-2 (1,2,14,30), IEC 61683, IEC 60227, IEC 60502 IEC 60947 part I,II, III ,IEC 61215 and more

1/2 hour live interaction class

1 lecturer session (30 Minutes each) and FAQ Session, Online Doubt Clearing session
Unit: ICS
Installation of EV Charging Station
Charging Station Permitting
Execution of work

Installation Instruction
Installing an outdoor public station
Pedestal Charging station

Installation Procedure

1 hour live interaction class

2 lecturer session (30 Minutes each) and FAQ Session, Online Doubt Clearing session
Unit: EVB
EV Business - Government rules and opportunity
What is the size of the EV market in India?
Opportunity after COVID-19
Govt. Policies and Regulations
Business models, Utilities , Charging space providers, Battery swapping, Digital and information technology
Payback and commercial model

1 hour live interaction class

2 lecturer session (30 Minutes each) and FAQ Session, Online Doubt Clearing session
23+ E-Book for self study
Knowledge & Skill from this training Program
Technical skill
Professional Skills

Basics of electrical concepts like voltage, current, power, energy, etc.
specifications, functioning, operating principle, maintenance requirements, handling procedures and warranties of different EVSE
PEV charging and technology
Technical information on EVs and batteries
identification and mitigation of safety hazards
fault probability analysis

identify market opportunities and potential customers
prepare a proposal for setting up of EV Charging station
prepare the cost benefit analysis
various methods for financial modeling
government policies and guidelines
Information on incentives and programs available for EV or EVSE ownership
Collecting load, behavior, or energy usage data to support the development of future EV
Collecting data on the installation process
Course Fee USD 300 $

---
Pay Total Course Fee at the time of Registration/admission.
Submit Registeration for this course:
Academy of EV Technology
"EV ENTREPRENEURSHIP DEVELOPMENT INSTITUTE"
A Unit of
Global Advanced Training & Educational Trust
An Autonomous Institute Reg. under
NCT New Delhi, GOVT. OF INDIA
ISO 9001:2008 Certified Orginazation,

Traditional Learning vs. AEVT Skill Training

Education is all about learning the theory. Traditionally, an education may reinforce knowledge in which that you already have a foundation.
And that's where AEVT Skill training differs; AEVT training gives you the skills to do something rather than just know about something. Training can be specific to your need, your work experience or your skills-gap.


Why AEVT Innovation and Entrepreneurship Certificate Program
Understand the core technology, principles of design thinking
Familiar with success Business Model to think about your business
Apply design thinking principles to identify innovation potential in your products/services
You Will Gain
A greater understanding of the technology that needs to succeed
Deeper insights into the people you are serving - a powerful tool for market research, to capture value for customers
Each course consists of assignments and a final exam. The teaching team also provides feedback on select assignments.
Develop a strategic framework for assessing market opportunities
Link between Innovation, marketing and meaning of customer value
Take your career to new heights
The Indian auto industry faces a talent crunch as it gears up for the impending electric vehicle (EV) revolution there just aren't enough engineers with expertise in the field. Current demand is pegged at more than 5,000 engineers - mostly in the electric, electronic and mechanical disciplines - which is likely to touch 15,000 over the next two years or so, according to staffing company TeamLease.
Stay up to date with industry
Find the latest technology in AEVT libraries and archives, journals, publications, magazines and AEVT channel, you'll find the latest engineering and technology thinking ready and waiting. Looking for something to inspire you? Our E-Magazine is packed with articles, Projects of our Alumni, interesting facts and authoritative coverage, making it an exceptional read.
Personal and professional support
Take advantage of AEVT Entrepreneurs business facilities, our wealth of services. At AEVT, you're free to work, network and relax in your city. our network of local and international groups cover a whole host of disciplines so you can connect and collaborate wherever you are and whatever you do.
Get involved
Connect with Top manufacturers, service providers and buildup trust partner and customer network.
---
Submit Inquiry
-