Market Research Reports & Industry Analysis
Lithium-ion Battery Module, Pack Assembly: Detailed Techno-Economic Feasibility Report
Lithium Ion Battery Market Overview:
Global lithium ion battery market was valued at $30,186.8 million in 2017, and is projected to reach $100,433.7 million by 2025, growing at a CAGR of 17.1% from 2018 to 2025. Asia-Pacific region is expected to occupy the largest share of the global lithium ion battery market in 2018.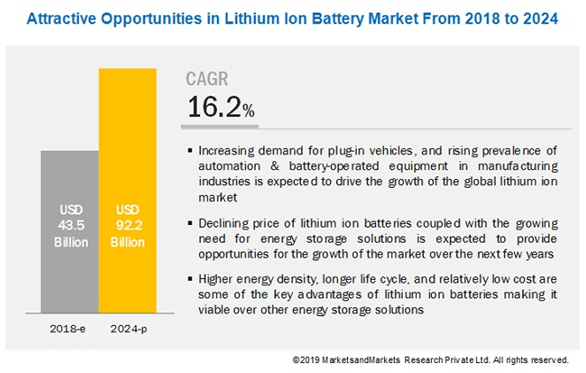 India Lithium Ion Cell and Battery Market are expected to grow in the future at a CAGR of 36.3% driven by increased use of lithium ion battery in electric vehicles, rise in public awareness to reduce carbon emissions, government plans and actions to bring in sale of all electric vehicles by 2030.

The lithium ion battery market in India gained popularity in the year FY' 2014 due to sharp rise in demand from the telecom providers in the country, while consumer appliances have been largely dependent on these batteries. The main boom in the market came from increased use by the telecom sector for telecom grids in the country. Reliance Jio telecommunications have been amongst the first few to use lithium ion batteries in their telecom grids and being characterized as green towers in the country.

For companies, entrepreneurs and businesses keen on setting up Li-ion Battery Packs assembling unit, this is best time. This market survey techno-commercial report will help you very much.
Table of Contents
1. Terms used in the project report
2. Globally current application of lithium-ion battery storage
3. OEMs Battery pack manufacturing strategy
4. Lithium-ion Battery Manufacturers in India
5. Introduction with Lithium-ion and EV
6. Introduction with Battery Pack
7. Lithium-ion chemistry
8. Li-ion cell to battery-pack value chain
9. Design Considerations
10. LITHIUM ION BATTERY TYPES
11. Plant Layout
12. PLANT LOCATION FACTORS
13. Environment: Applicable Regulatory Framework and Environmental Impact of Project
14. License, certificate and Approval
15. Project Technical Concept
16. Assembling process of lithium ion battery
17. Li ion battery assembly Line
18. Production line layout
19. Battery Cost Effect
20. Effects of Cell Chemistry on Battery Cost
21. Type of production unit
22. MACHINERY AND EQUIPMENTS
23. Machinery and equipments suppliers
24. Packaging Material Solutions for Battery Manufacturing
25. Transportation of Battery pack
26. Battery Waste Management
27. Slandered Code
28. Test Certification
29. Battery Pack Manufacturing Investment Costs
30. Plant Economics
31. Fixed Capital, Working Capital, Capital Investment
32. Cost of production/annum
33. Turn Over/Annum
34. Risks & Mitigation
35. Human Resources
36. Business guide line
37. Address of financial institutions
38. Address of relevant government offices

EVOLT is consulting, research and academic institute specialized in the electric vehicles. We continuously work to establish mutually beneficial relationships with customers, dealers, sales partners and the public administration.

EVOLT collaborates actively with authorities and decision makers globally to secure that relevant research platforms and environments are available where cross-disciplinary research collaborations can take place in areas of common interest.
EVOLT Research Paper:-
Objective of Techno-Economic Feasibility Studies/ Detailed Project Reports is to determine the technical feasibility and financial viability of the project, assess the risks associated with the project and enumerate imminent actions that are required to be taken. It helps a client get a detailed evaluation of a project.
Methodology:
Broad methodology of execution involves:
Data collection
Data analysis
Report and Project formulation
Benefits:
It helps a client make an investment decision based on:
Technical feasibility of the project
Financial viability of the project
The risks associated with the project
Actions required for risk mitigation
EVSE Infrastructure Consulting
EVOLT provides nationwide safe, reliable and robust EVSE solutions. Our experienced consultants can help you plan your EV charger selection as per Govt. of India policy and installation from start to finish - from site verification and feasibility through permitting and approvals and software app selection, and all necessary steps, including the commissioning of the final installation.
Download PDF
No of Pages: 86
Last Update on: 22/06/2020
Full Project Report , Techno-Economic Feasibility Report Price: $ 1000 USD
DOWNLOAD SAMPLE PROJECT REPORT
---
More Related Project
-